Invisible blessings:
Even in present times, the influence of Daduji's blessings and teachings is seen. For instance, when the 1990-91 war between America and Iraq took place, the two countries were on the brink of World War III. Shri Shri 108 Mahant Maharaj Ramvallabhdasji and his disciple Shri Shri 108 Mahant Maharaj Ramvallabhdasji went into meditation for their Guru Daduji Maharaj's guidance. After three and a half hours of meditation, they felt their Guru's presence with them. And when they opened their eyes, they saw Maharajji. Shri Daduji Maharaj raised his hands in blessing and said 'Satyaram' and 'bless you', five times. Then he disappeared.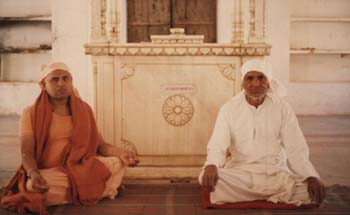 Mahant Shri Ramvallabhdasji Maharaj and Swami Kshamaramji Sadhu
The secret behind the Mantra:
Mahanta Shri Ramavallabhdasji and Shri Kshamaramji pondered over what Daduji had said, and came to the conclusion that for the success of any impossible task and the well being of all humans, the writing of the name (Satya)Ram should be done 50 trillion times. They took up this task with enthusiasm and all the disciples were instructed to start writing 'Rama' with immediate effect. Hardly 93 hours had passed since they started when a ceasefire was announced between America and Iraq. The principle of adopting thoughts and actions for other's benefits is described by Goswami Tulsidasji in the words of Shri Rama
Par hit bas jinha ke man maaheen,
Tinha kahoon jag durlabh kachhu naaheen.
Today, lots of people are engaged in this pious, selfless task and are immensely happy. All papers containing the precious 'Rama' Naam will be put into a life-giving foundation to be constructed on Bhairana Hills at Shri Dadu Palkan Dham.
In the divine presence of Sadgurudev Shrimad Dadu Dayalji Maharaj, this herculean task of writing 'Rama Naam' got completed in the latter half of the year -1999 and the earlier apprehensions were sorted out but many other problems kept arising from time to time. So once again they prayed to Dadu Dayalji Maharaj to seek his divine guidance and blessings. After much analysis and contemplation, saints and devotees once again prayed to 'Pujyashree'.
This time the message received was, for the purpose of a long lasting solution to the global problems and to illuminate the earth with goodness and spirituality; the decision of writing 50 trillion Rama Naam should be increased to 5100 trillion. Till date, about 800 million 'Rama Naam' have already been written in the 'Mantra-Patras' of Shri Dadu Dayalji Maharaj. Besides this, written 'Rama-Naam' has been collected by various institution in letters, books & registers. Many more mantras like 'Om Namah Shiway' 'Sitaram' 'Shriram, Shri Rama Jai Rama Jai Jai Rama' etc have also been written & all this collection amounts to about 1500 million. The total collection of these written 'Maha-Mantras' is safely stored in the premises of Shri Dadupalkan Dham, and devotees are being benefited by its 'darshan'.
There is an earnest appeal to all devotees to come and have a glimpse of this great collection of 'Maha-Mantras'. Presently, this institution is busy popularizing the writing of the Rama Naam Mantra and planning the outline of the proposed 'Rama Naam Parikrama' temple. It is printed in the Sansthan's information booklet and the construction work will commence in the near future. The way people all over have participated in the writing of 'Rama Naam Mantra' with great dedication and emotions, has aroused not only a hope but a firm belief that the construction work of the Parikrama will receive your all round support, making this task much easier. With the grace of Shri Dadu Dayalji Maharaj, the construction work of the Parikrama will soon be completed and achieving the set target of writing of 5100 trillion mantras by the first half of this century will not be an impossible task.
The main purpose of this divine and very simple task of writing 'Rama Naam' is to unite the entire mankind and bind it together with the thread of love and peace .We can achieve the above goal only because we are fortunate enough to be gifted with the human body with the kind grace of God. Readers are requested to kindly contact the 'Sansthan' members for this contribution towards printing of 'Rama-Naam Patras' & for the construction of the 'Parikrama'. May your contribution be beneficial to you, inspiring for us & may there be progress in the popularity of writing of 'Rama-Naam' & in the construction work of 'Parikrama' Mandir.
Do's and Don'ts for Likhita Japa
Likhita Japa (writing mantras) can be done in any language, with pen or pencil in any colour.

You can write any number of mantras at a time, but by writing at least a fix number of mantras at a definite time daily it becomes a Sadhana for the devotee helping him on a steady path to divinity. We should follow the instructions from our Guruji, elders and virtuous people. You can even decide for yourself in front of the God you believe in most, how many mantras, and at what time you should write daily.

Likhita Japa forms and books are divine things used as an offering to almighty God, so please handle them carefully, so that they don't get dirty or tear. Filled up forms and books should be returned at the earliest. Please do not use the forms for any other writing besides the mantras or for packaging, and also guide others not to do so.

Please fill all the boxes (on the form) and write at least one Rama in each box. The whole form should be handwritten, don't use carbon paper or typewriter. Our organization distributes Likhita Japa forms and books for free, please don't sell or buy them.

Please don't ask for any gifts (for writing mantras) like books, photos, cassettes, CDs, medals, certificate, stickers, pens etc. We only offer free forms and books according to availability of the stock.

Please don't put excessive or unnecessary gum, cello tape or stapler pins on the packets in which you return us the mantra patras because this damages the mantra patras and books. If you wish your friends and relations to join in for writing mantras, please make sure that they follow the dos and don'ts.

New devotees will not be sent a large number of books or forms because many times, people fail to write/return them.

Please don't call all the members separately for mantra patras/books, but instead keep contact with one member only. All necessary queries are answered but may take some time due to a heavy workload. If you wish to call the mantra patras/books for any special occasion, please inform us 6/8 weeks in advance so there is sufficient time for us to make necessary arrangements. All the mantra patras/books are printed with funds donated by devotees and some times there isn't enough supply due to lack of funds. Please bear with us and wait. As soon as the supply is available, mantra Patras/ books will be forwarded to you.

These mantra patras/books are specially prepared for the Rama Naam Parikrama Mandir so please be cooperative and restrain from sending them to any other Mandir, Organization, individuals or submerging them into the river or sea.

Interested devotees can contribute towards printing of Mantra Patras. A minimum of 10000 Mantra Patras, at present, costs Rs. 3200/-. If you so wish, a part or all the Mantra Patras, printed from your contribution, can be sent to you or distributed through the Sansthan. Please do not send cash by ordinary post or with the written Mantra Patras. If you so wish, you can help promoting this noble task for world peace, by getting them printed in your own city, at the same time distributing and collecting back the written Mantra Patras.

Written mantra patras/books can be returned by hand, post (inquire and affix enough postage stamps), courier, or transport. Please don't send railway parcels. If you have any other mantras besides Rama, and you wish to have them placed in the Rama Naam Parikrama Mandir, you can send them to us.

Please don't forget to put your full address with phone numbers and email every time you contact us, it helps speed up communication.
Sample mantra patras: Sample 1, Sample 2, Sample 3, Sample 4